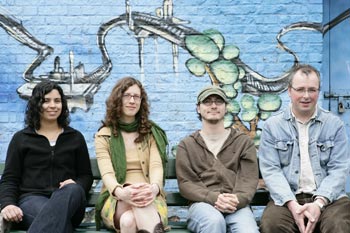 Is there such a thing as flaneur-pop? If not, you can thank The Pickups for inventing it on their latest release, Country Houses, City Streets. With its five songs about love and neighborhoods, produced by the legendary Don Kerr (Ron Sexsmith, Rheostatics), listening to the EP is like walking all afternoon with a new friend and learning everything about them.
The Pickups have traveled a long road since Sarah Greene (songwriter, vocals and guitar) got together with her friends Signe Miranda (percussion and vocals) and Martin Crawford (songwriter, vocals, guitar and lap steel) in an apartment in Toronto. With the addition of Owen Keenan (bass and vocals), the quartet released their self-titled debut LP in 2005. They recorded the whole album with little more than a single microphone and a portable eight-track, but the band immediately got to work spreading their sound. They toured Ontario and Quebec and received radio play on influential college stations from coast to coast.
The Pickups' blend of effortless pop craftsmanship and hint of lap steel twang will make you feel homesick for where you already are. It's a reminder to bustling urbanites of what it's like to amble down a side street or linger too long at a fruit stand. It's a dose of fizzy pop for small-towners who need more than a bland double-double at the end of a long day. You won't want to put down The Pickups.